SOUTH DUBLIN COUNTY COUNCIL
SOUTH DUBLIN COUNTY COUNCIL INTEGRATES LEGACY PBX WITH MSO365 AND MICROSOFT TEAMS
AT A GLANCE
Industry
Goals
To Provide Seamless Fully Flexible Working Environment For Employees
Solution
Integration Of Legacy PBX Telephony System With MSO365 And Microsoft Teams
Benefits
Full Integration Of PBX With MSO And Teams

Better Reporting Capabilities
INNOVATION AND CONNECTIVITY THROUGHTECHNOLOGY INTEGRATION
South Dublin County Council covers a large geographical area in and supports a population of almost 280k people.The Council Headquarters is based close to The Square in Tallaght. The Council had as its core telephony infrastructure a legacy PBX supporting over 1000 users across the main site and the outlying libraries managed by the Council.
In addition to this, the Council's CustomerCare department handled all incoming calls via a multi-media queue-based contact centre to handle public calls.
THE BACKDROP
The Council had made the decision to move to a MicrosoftO365 environment as this made sound economic sense and also offered all users more flexible ways of working as well as a more easily managed dynamic network for the IT team.
Microsoft was recognised however as not having a similar leading enterprise contact centre solution which the Council needed to retain.

"Working with South Dublin County Council, we have rolled out a cutting edge solution that is fully integrated with the Microsoft Teams platform. We have enabled their employees to work better, smarter and more flexibly. In addition we have scaled back their legacy PBX system, enhanced contact centre operations efficiencies and achieved cost savings." 
Jane O'Doherty – VEI Global
DEFINING THE PROJECT NEEDS
A full migration to Microsoft Teams for full voice and UC was required and we needed to retain the leading enterprise contact centre solution which was embedded and fit for purpose and integrate this technology with the existing MS 0365. At the heart of the project was the need to provide a seamless, consistent and reliable platform to support a full flexible working arrangement for all employees.
SOLUTION DRIVEN FOR MAXIMUM SUCCESS
VEI Global's approach to this was to integrate the existing legacy technology to MSO365. This would make best use of the investment already made by SDCC and staff would continue to use technology that they were familiar with, therefore minimising any disruption to customers and staff alike. The Contact Centre technology in place is recognised as an industry-leading enterprise contact centre solution, delivering full multi-media capabilities and integration into social media streams such as Facebook and Twitter.
The SDCC Contact Centre system was upgraded to the latest release and installed on the customer's virtual environment. The much scaled-down PBX was also upgraded to the latest version in order to support the contact centre. The Council was offered the option to phase out the existing web collaboration, voicemail and instant messaging as these users were moving on to MS Teams in a managed way.
With the technology integration work completed, SDCC began migrating users away from the PBX in a controlled way. The TDM handsets were replaced with soft clients and headsets. Costs were further reduced by much lower maintenance costs on thePBX. The longer-term aim of the Council is to have the ability to remove the PBX completely and have all users on MS Teams.
Customer calls continue to be supported through the existing contact centre solution which has an efficient skills-based queueing system that improves efficiency in ensuring that the call is routed through to the correct agent thereby supporting first-time call resolution and improving public services from SDCC's Customer Care Department.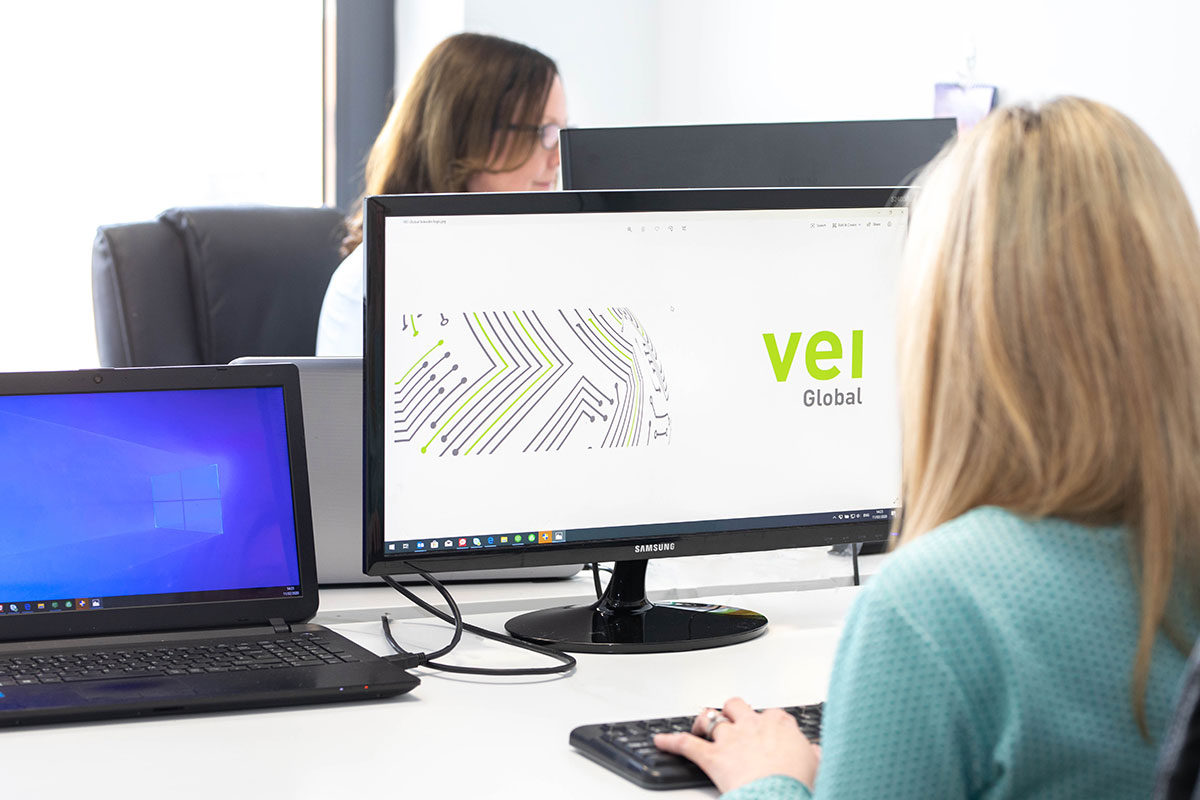 ABOUT VEI GLOBAL
Who We Are – VEI Global is a market leader in providing innovative technology services and support solutions. We excel in delivering multi-site IT deployment projects across all sectors around the globe. Our focus is on providing the best support service capabilities, all requests are managed 24/7. We can handle any ICT challenges and are experts in networks, logistics, infrastructure and service delivery.
A highly skilled and experienced IT team such as VEI can support businesses with all aspects of IT infrastructure projects, from reviewing your requirements, identifying the right solutions to suit your requirements and budget, right through to deployment and ongoing systems maintenance. This leaves you free to focus on what matters most—your business operations and business growth.
Get in touch – We'd love to hear from you.