LARGE AMERICAN CAR RENTAL
PSD 2 SCA credit card machine deployment
AT A GLANCE
Industry
Large American car rental with outlets across America and most of the world
Goals
To deploy credit card technology across our client's car rental counters across Europe and enable our client to comply with PSD2 deadline to take millions of credit card transactions
Solution
VEI staged, handled, configured, tested and shipped all the reader machines in our Integration Centre facility

Follow up admin and user training provided on site

1,100 site installations across 10 x countries over a 6 week period

Staged/tested/installed over 3000+ devices

VEI Global Localisation service coordinated remote follow-up user training for client's German and French teams

Completely managed project centrally from VEI HQ
Benefits
Reliable and robust credit card system in place for our clients and their own customers

Seamless deployment under a challenging timeframe

Full user training provided ensuring counter team well equipped to use the technology
INNOVATION AND CONNECTIVITY THROUGH TECHNOLOGY INTEGRATION
VEI Global were tasked with mobilising teams of field engineers for deploying credit card machines for our client's car rental counters across Europe. VEI staged, handled, configured, tested and shipped all the reader machines in our Integration Centre facility, in advance of installation. In addition, VEI Global's localisation teams provided follow-up administration and user training for all sites. This implementation was viewed by our client's senior management team as a huge success, against extremely challenging timeframes.
THE BACKDROP
Our client initially requested VEI Global to install approx 1,000 Credit Card Machine devices (PSD2) over 2-3 months across their European site locations. However due to an impending regulatory deadline and some inventory delays, VEI were asked to also pre-configure, stage, test and ship all devices, as well as install all devices in a 6-week window.
The project was expanded for VEI to include follow-up remote support for training and administration for their staff. VEI were required to mobilise teams rapidly across Europe. The project involved over 50 x VEI field technicians, 10 x VEI remote configuration engineers, 4 x Project Managers and 4 x Training Experts, working across 1,100 x sites in 10 x European countries.
DEFINING THE PROJECT NEEDS
The project defined had 3 x distinct phases:
Phase 1 – Pre-configuration
VEI staged, configured, tested and shipped all devices from our "state of the art" Integration Centre
Phase 2 – Implementation
Each location required the PS2 device to be installed and tested onsite.  VEI developed a portal for the site device details to be recorded and checked to ensure sites went live "first time", ensuring that re-visits were kept to a minimum. All site visits had to be scheduled by our global service desk, who encountered site access issues during the summer holiday season. All site locations were successfully installed over a 6-week timeframe and crucially meeting the client's deadline.
Phase 3 – Training Support
Following successful installation for all sites, VEI were asked to provide device training remotely for car rental counter staff.  VEI provided German, French, Italian and Spanish experts to provide training support, ensuring a seamless installation of the new service for both the client's staff and their end-customers

"In terms of timeframes, site access issues and language barriers, this was probably the most challenging project VEI have ever undertaken globally. The enormity of the task was made simpler through our award-winning operations team. Through good organisational skills and resourcefulness in identifying skills required at each stage, as well as responsiveness and flexibility from our key network of partners, it helped make this project such a success and so rewarding for VEI and our client." 
Chris Webb – VEI Global
SOLUTION DRIVEN FOR MAXIMUM SUCCESS
VEI Global deliver technology projects across all industry sectors and environments. We specialise in projects that focus on the security and integrity of technology, systems and hardware and are well-experienced accessing difficult environments such as busy stores and retail settings.
We deployed the credit card technology for our clients in each site without compromising the user experience. During the project our team worked around the needs of counter staff at each location to ensure there was minimal disruption to business operations.
In advance of installation, VEI staged, handled, configured, tested and shipped all the reader machines in our Integration Centre facility. This step ensured that any issues were picked up prior to deployment minimising our time on site and any disruption for our clients.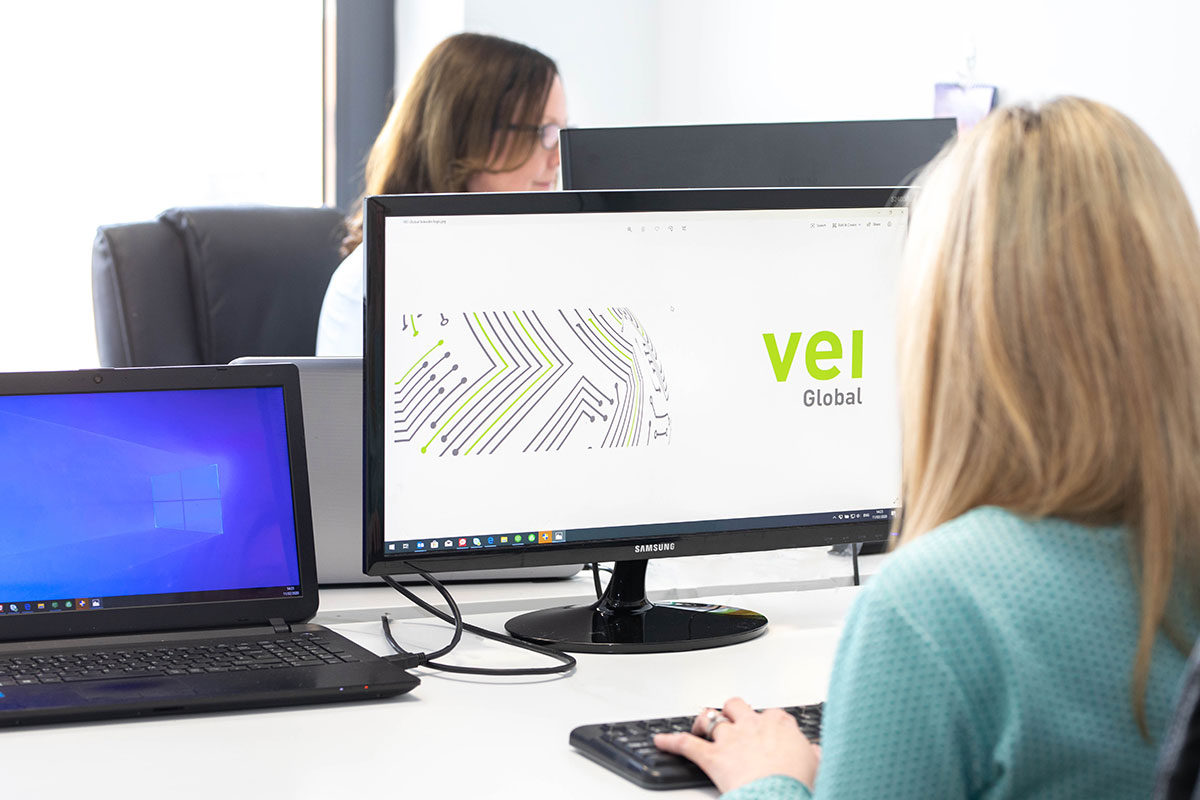 ABOUT VEI GLOBAL
Who We Are – VEI Global is a market leader in providing innovative technology services and support solutions. We excel in delivering multi-site IT deployment projects across all sectors around the globe. Our focus is on providing the best support service capabilities, all requests are managed 24/7. We can handle any ICT challenges and are experts in networks, logistics, infrastructure and service delivery.
A highly skilled and experienced IT team such as VEI can support businesses with all aspects of IT infrastructure projects, from reviewing your requirements, identifying the right solutions to suit your requirements and budget, right through to deployment and ongoing systems maintenance. This leaves you free to focus on what matters most—your business operations and business growth.
Get in touch – We'd love to hear from you.