LONGFORD COUNTY COUNCIL – WIFI4EU FOR LONGFORD, BALLYMAHON AND DRUMLISH
SUPPORTING THE DEPLOYMENT OF WI-FI CONNECTIVITY FOR IRELAND'S TOWNS & VILLAGES
AT A GLANCE
Industry
Goals
To Implement An Improved Wi-Fi Infrastructure To Benefit The Local Community, Businesses, Tourism and Education in Longford, Ballymahon and Drumlish.
Solution
Implementation of European Wifi4EU Project and Eduroam
Benefits
Longford Was The First Council To Introduce Eduroam.

Seamless Wi-Fi Access For The Population.

A New Technological Infrastructure Benchmark For Ireland's Towns And Villages.
DEPLOYING BEST IN CLASS WI-FI TO TOWNS AND VILLAGES
Longford County Council foresaw access to free public Wi-Fi as an important enabler for economic growth and also for promoting Longford as a progressive and technologically advanced county. An improved Wi-Fi infrastructure would not only benefit the local community and economy but it would also support the tourism and education sectors immensely. We installed free public Wi-Fi in three towns – Longford, Ballymahon and Drumlish, in several points within each town to give full public coverage.
WIFI4EU is an initiative run by the European Commission that seeks to promote free Wi-Fi connectivity for citizens and visitors in public spaces such as parks, squares, public building, libraries, health centres, and museums everywhere in Europe.
Eduroam stands for education roaming. It provides secure and easy-to-use Wi-Fi access in more than 12,000 locations across 106 countries worldwide.
The council is among the most innovative in Ireland in adopting new technology and they sought our assistance in defining and deploying the technical infrastructure to support their vision.
THE BACKDROP
Longford as a progressive county has the requirement to establish an advanced Wi-Fi infrastructure through both the WIFI4EU programme and the Eduroam initiative. Both of which would enhance and support their economy and local businesses, as well as, their educational institutions, local community and tourism sector.

"We found VEI Global very easy to deal with. They are an experienced Wi-Fi installation company having rolled out the BCP project with Vodafone, this is a nationwide project to connect rural areas and the most isolated islands with Ireland with free Wi-Fi. The solution was delivered on time as per their project plan"
DEFINING THE PROJECT NEEDS
Working with Christine Collins the Broadband officer for Longford County Council – VEI Global designed a solution to enable free Wi-Fi connectivity up and down the main streets in all three towns.

We needed to establish a first-class Wi-Fi network platform that is always accessible, reliable and consistent.

In addition it was essential to provide a fully wireless broadband for students through Eduroam hotspots.
ROLLING OUT THE SOLUTION
A multi-disciplinary team from VEI Global was employed to specify, install, configure and monitor the project.
In conjuction with LCC, VEI Global visited local business to explain the reason for the installation and the benefits to them of having connected customers. This is essential as many of the access points were placed on the external buildings of businesses. "Having the buy in from local businesses in the main street means a trouble free installation of public Wi-Fi".
The newly advanced infrastructure strengthens the ability of Longford to attract visitors and to support local businesses. "VEI Global were both PSDP PSCS contractors for this project and handled traffic management and all Health and Safety Aspects of the installation."
Now that WiFi4EU has been rolled out successfully in these three towns with seamless Wi-Fi access for the local population and with Eduroam access with roaming in place, a new technological infrastructure benchmark for other Irish towns has been set.
"Working with Longford County Council on the WIFI4EU and Eduroam project is one we are all proud of and the advanced infrastructure now in place at Longford County Council benefits the local residents and the local economy on a day to day basis". Chris Webb of VEI Global.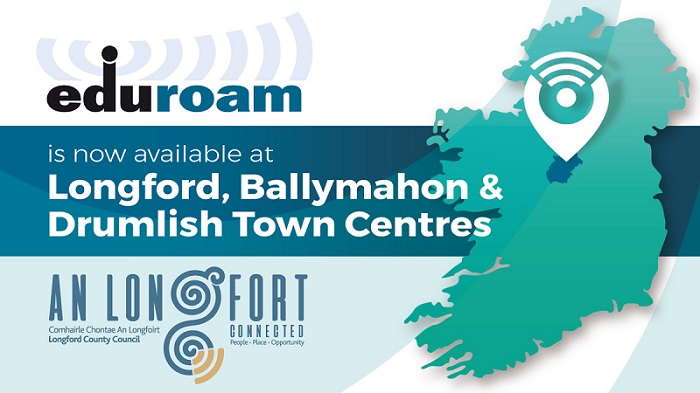 ABOUT VEI GLOBAL
Who We Are – VEI Global is a market leader in providing innovative technology services and support solutions. We excel in delivering multi-site IT deployment projects across all sectors around the globe. Our focus is on providing the best support service capabilities, all requests are managed 24/7. We can handle any ICT challenges and are experts in networks, logistics, infrastructure and service delivery.
A highly skilled and experienced IT team such as VEI can support businesses with all aspects of IT infrastructure projects, from reviewing your requirements, identifying the right solutions to suit your requirements and budget, right through to deployment and ongoing systems maintenance. This leaves you free to focus on what matters most—your business operations and business growth.
Get in touch – We'd love to hear from you.