U.S. BASED GLOBAL IT SYSTEMS INTEGRATOR
EXPERT SERVICES TEAM PROVIDER
AT A GLANCE
Industry
The support services supplied to their customer base covers the following industry sectors:
Manufacturing
Goals
To provide outsourced resourcing 24/7 both remotely and onsite Engineering skills. We assist in providing these outsourced skills for :
NETWORK – Local Area Network, Corparate Wi-Fi, Datacenter Network, Smart Infrastructure

DATACENTER – Enterprise Compute Hybrid Cloud Data & Storage Management Analytics & Big Data

SECURITY – Endpoint Security, Infrastructure Security, Cyber Security, Information Security Management & Packaged Security Services
Solution
VEI Global provide a number of services for this company that turnover $1.5bn annually

Part of a large IT equipment upgrade (24hr roll out)

Delivered across 300+ stores globally

Outsourced Resourcing 24/7

Data Centre Deployments and Telephony & Contact Centre
Benefits
Outsourcing projects to VEI Global has resulted in consolidation in the number of suppliers they deal with globally

The relationship has helped the client to secure global contracts and reduced internal overhead costs.

Technical input and audits ensure correct information is collected for technical proposals

Assigned Project Managers and Technical leads to assist partners and end customers to achieve technology goals.
INNOVATION AND CONNECTIVITY THROUGH TECHNOLOGY INTEGRATION
VEI Global provide an Expert Services Team to a leading independent technology partner, who are trusted by large corporate and public sector organisations. We help our customer to source, transform and manage their IT infrastructure to deliver digital transformation, enabling users and their business.
Our IT Systems integrator combines global reach with local expertise. They deliver local services and operate Service Centres and Integration Centres across Europe, South Africa, Asia and the Americas, supporting users in over 70 countries
THE BACKDROP
VEI Global has been working closely with a US-based IT Integrator, over the last number of years on a wide variety of projects from contact centre and telephony to data centre deployments and looking after their outsourced resourcing.
The partnership has grown over the years, where VEI have brought real value to the sales process. End-customers expect a "global reach", extending service capabilities beyond the US, into Europe for their entire network requirements.  Our Expert Services team have been the difference between winning and losing opportunities for our client.
DEFINING THE PROJECT NEEDS
We are requested to send personnel to audit the sites to allow for a more granular look at new and legacy sites.  VEI will also work from plans, network topologies and various information the customer can provide to ensure a true picture to the end customer on project costs and defined timelines.
SOLUTION DRIVEN FOR MAXIMUM SUCCESS
The flexibility VEI Global provided to our client, in terms of ramping up skills and resource teams for specific projects, to meet their client's timelines has been a key differentiator for their business. The trust placed in VEI Global by this client is reflected in the high profile projects that we have jointly worked together on.
VEI Global provide a number of services for this client with a turnover in excess of $1.5bn annually.

Part of a Large IT equipment upgrade (24hr roll out): Delivered across 300+ stores globally, provided 12 x PMs (5 x different languages) using 32 x field engineers.

Outsourced Resourcing 24/7: Dedicated team of experienced engineers, working as an extension of their U.S. based team for clients across Healthcare, Financial and IT sectors.

Data Centre Deployments: Multisite, hardware fulfilment, installation, maintenance for a large American Media Services Provider.

Telephony – Contact Centre: Provide advanced support and real-time metrics for Cisco IP telephony and contact centre network for major global retailer. (24/7)
"Outsourcing projects to VEI Global has resulted in the consolidation in the number of supplier's our client has to engage with globally and reduces internal overhead costs. Supporting large corporations with many strands of their IT infrastructure and telephony is at the core of what we do. VEI have been able to provide the right skilled and certified people to deliver and support an end to end project with define timescales and budgets." 
Lloyd O'Rourke – VEI Global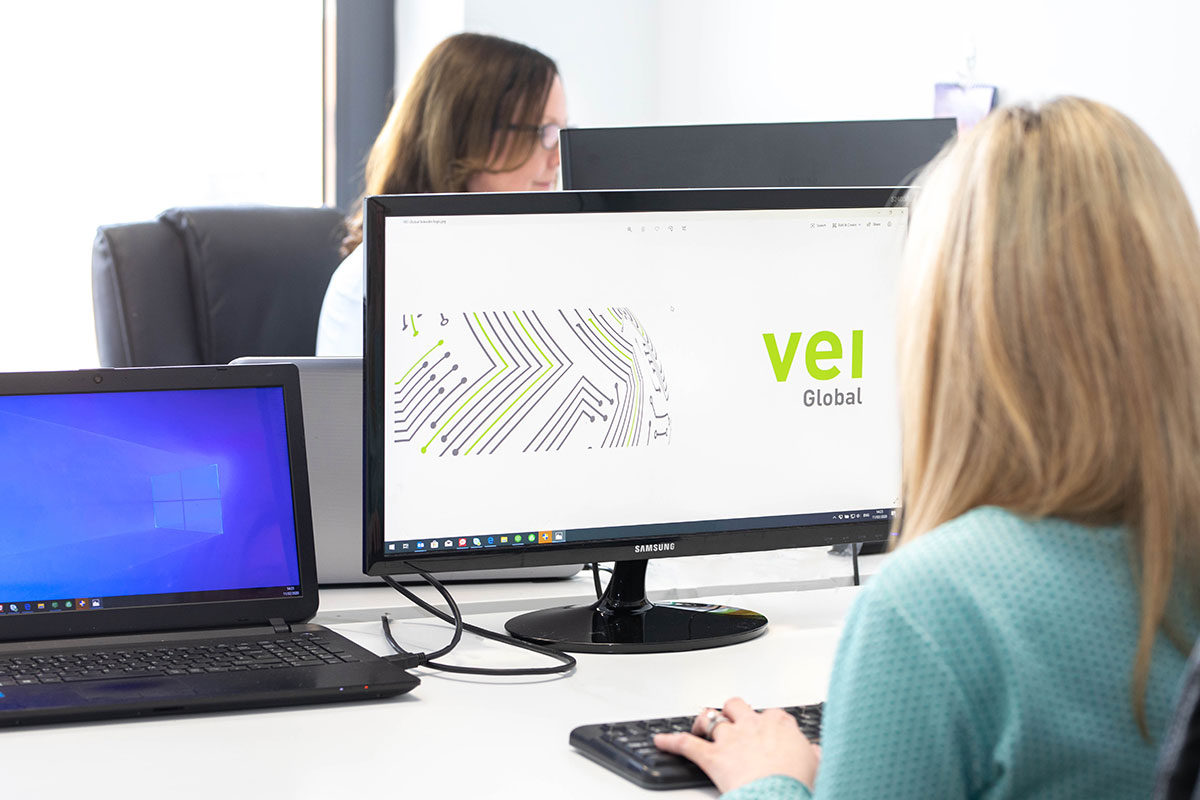 ABOUT VEI GLOBAL
Who We Are – VEI Global is a market leader in providing innovative technology services and support solutions. We excel in delivering multi-site IT deployment projects across all sectors around the globe. Our focus is on providing the best support service capabilities, all requests are managed 24/7. We can handle any ICT challenges and are experts in networks, logistics, infrastructure and service delivery.
A highly skilled and experienced IT team such as VEI can support businesses with all aspects of IT infrastructure projects, from reviewing your requirements, identifying the right solutions to suit your requirements and budget, right through to deployment and ongoing systems maintenance. This leaves you free to focus on what matters most—your business operations and business growth.
Get in touch – We'd love to hear from you.